Carrying on from last week's RAF Simons Clothing, we have a new brand spotlight for you. These two link very well together as you will find out by reading on. Jill Sander was founded in 1973 and the first men's collection premiered in Milan, January 1997 and has since built a reputation for understated and sleek designs cut in luxurious fabrics. The minimalist trademarks include striking silhouettes, high-end fabrics and meticulous detail which emphasises modern masculinity and refined craftsmanship.
Raf Simons joined the company in 2005, taking the position of Creative Director. His collections embody the Jill Sander brand's core values and hold true to its history. In 2007 and under the supervision of Raf Simons a new accessories department was established to reinforce the Jill Sander identity. Can you see the link between the two now? Yeah see what I did there!? How clever am I!
Anyway… Here are my top 5 purchases from Jil Sander Clothing this season…

Jil Sander Clothing Top 5
Click Here to See the Latest Collections
Jil Sander colour block shirt in light grey with pink and yellow panels across the front and grey mother of pearl buttons. This style is fitted with a narrow yoke, small collar and single button cuffs. Not only is the fit truly brilliant and the best you can get without a tailor, I love the block colour through the middle. It's not over the top and garish but looks amazing with great pair of trousers or skinny dark wash jeans. Detailling on this shirt is sublime.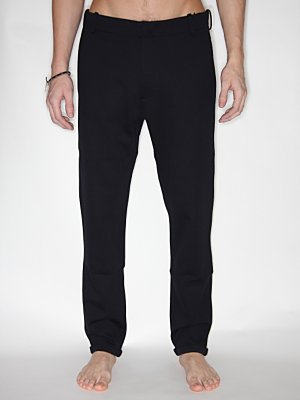 Really brilliant simple navy slim leg trousers from Jil Sander in a stretch jersey. Trousers has small turn up, four pockets (2 front and 2 back) and a zip fly. Subtle and cool, they embody the Jil Sander look brilliantly. These trousers are made viscose, nylon and spandex – we'd say dry clean only.
These slim line trousers come in at number 2 because of how well they go with the shirt above. A slim fit trouser which look and feel quality and high end style. They are not too formal (due to the 4 pockets and material) but can be dressed up or down. Excellent base for any outfit.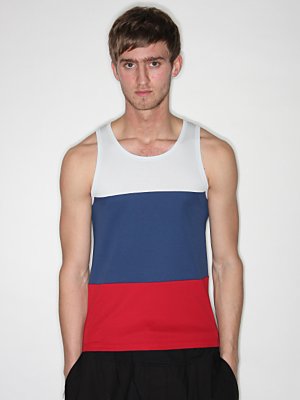 Jil Sander cotton tank top with colour panels of light grey, navy and red across the front and a navy blue back. This might be one of the best vests I have ever seen and owned. It better be for the price you pay, but I just love everything about it. The fit is excellent, with quality construction and the colours are AMAZING. If you want to stand out this spring/summer then grab yourself one of these and never look back. Also fits in with the nautical and red/blue colourways which are massive this year.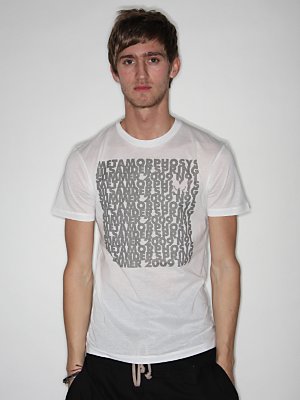 Jil Sander Collection Print 'Metamorphosys' t-shirt in fine light grey cotton with white lettering across the chest. This T-shirt is very understated and made again of real quality. The print is not too in your face and can be worn underneath a blazer or on it's own for a casual dress-down look. The light material makes it perfect for those hot summer days, keeping you cool and dry.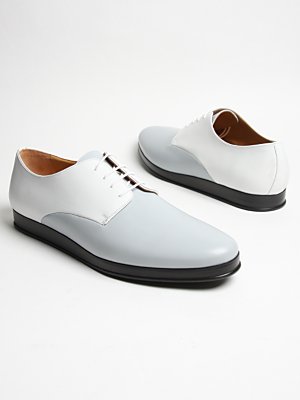 Jil Sander two colour show shoes with a light grey one-piece toe and off white one-piece heel and placket with matching laces. The black sole is slightly wedged in shape with a rubber base. Under the direction of Belgian Raf Simons, Jil Sander has become a little more experimental. These shoes have come direct from the runway and feature this seasons colour blocking.
These shoes may not be for everyone's taste but I have a pair and think they are great. The fit, quality of the construction and materials used again are of top notch quality. Block colours are very much in this year (as you can see from the examples above) and I think these go very well together without being too "out there". Wear with formal outfits for a bit of flair or with your favourite pair of slim/straight fit jeans out for drinks at the weekend. Once you own a pair of Jil Sander/RAF Simons shoes you will never go back, trust me!
We hope you enjoyed this preview, if you have any specific designers you would like to see featured just drop it in the comments below.