Another week and another brand focus for you all to enjoy. Have I started to open your horizons yet or what!? In all seriousness I hope you are enjoying these spotlights because I think it's very important to expand your men's fashion knowledge, even if you end up not liking the style of the products. It will develop your personal taste and style greatly if you can spot what you like and don't like instantly.
This weeks focus will be on Nom De Guerre men's clothing. Nom de Guerre is a New York based creative collective who combine basic and diverse influences from art, fashion and various New York City subcultures to create their product. I am especially excited by this brand as I think the New York fashion scene is one of the best in the world and particularly appeals to my sense of style…
"Founded in 2003 in downtown Manhattan, Nom de Guerre has the look of a high end Army & Navy outpost with an emphasis on utilitarian basics – they offer simple, conceptual pieces with insightful, unusual detail. This 'Storm and Stress' collection combines history and myth to produce an expression of extremes within the parameters of military ideologies and references. The resulting look is a uniform proposal of a conceptual regiment of boys. The palette is light blues and greys, colours mimicking the horizon line. These base colours are set off by midnight blue and white – elemental colours of regimental dress clothing.
Outerwear is storm resistant – made from DM-3 Gore-Tex, pants are made from rugged denim and woven cottons, fine shirting cotton is a staple of the collection and is a washed oxford in utilitarian styles reminiscent of jungle uniforms."
Their products are quite simplistic and classic fashion. You won't find the extraordinary creative flair of say RAF Simons or Jil Sander, but the clothes are high quality and will combine well with all sorts of styles and trends. Like I said, I am more of a traditionalist, so these items are perfect for me. They also just ooze cool without having to 'try' – just like me! ;)
Click Here to See the Latest Collections
Take a look below for 5 top 5 picks from the latest Nom De Guerre range…

Nom De Guerre Men's Clothing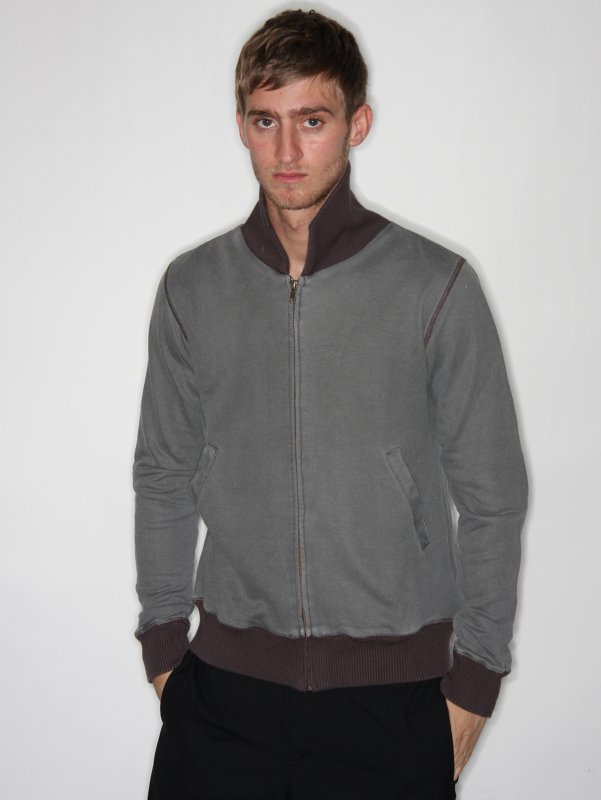 Charcoal grey shawl collar soft jersey zip up sweater. Hem, cuffs and collar are thick ribbed brown knit, top has two deep hip pockets. Typically simple Nom piece, very cosy – the knit's a heavy mid-weight. This is my favourite current Nom piece. It is high quality, the colours contrast perfectly and it is in a Harrington Jacket style even though it is knitwear really. Beautifully soft and feels great on, it will really add some high class to your casual look. This is a must own!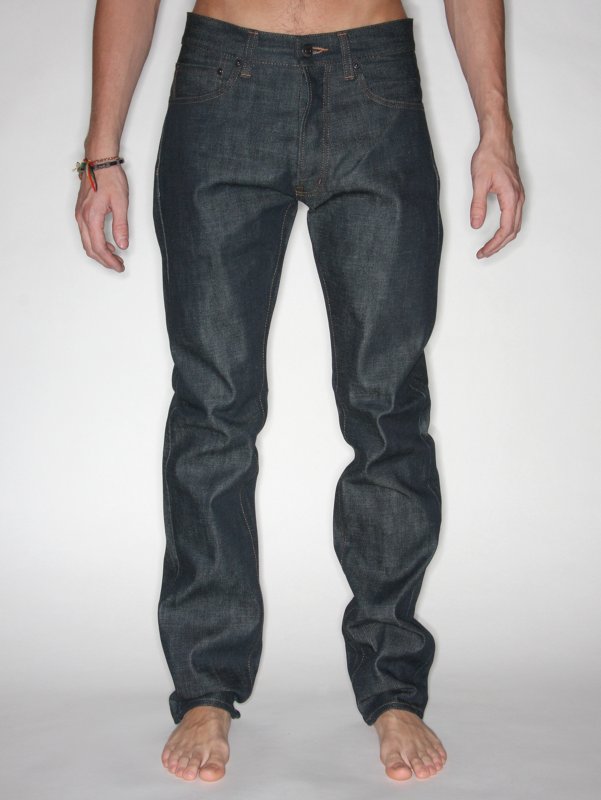 Classic fit dry denim indigo jean from Nom. Really simple and unembellished 5 pocket denim with dark exposed rivets, contrast brown stitching and an unembellished button fly. These classic jeans are perfect to me. They have a classic dark wash style that is SO IN at the moment (and dark wash never goes out of trend!) but combines it with a high quality cut and amazing fabrics. They are slightly slim fit (but not skinny) and so are perfect for formal occasions or just on a night out. All of these items you will see match a very specific colour palette which once you layer a couple of them, look amazing.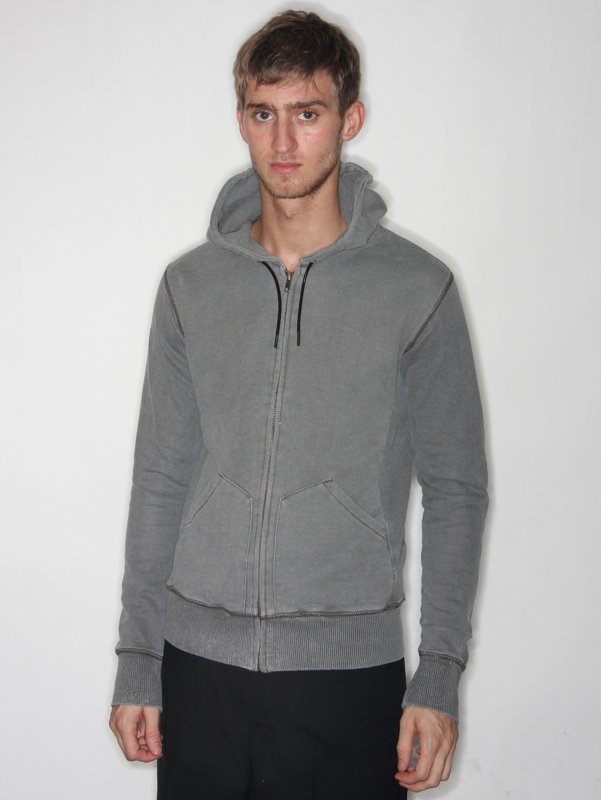 Heavy drawstring hooded sweater. Has two deep waist pockets, padded elbows and grey cord hem, cuff and side detailing. This hoody is just high quality casual cool. A great hoody is hard to find but Nom pulls it off. I can't tell you how much I wear this item and the worn look to the edging and detail makes it look so retro. It is heavy weight, so you know it will last, and again would look great layered with a t-shirt, shirt and/or jacket. The elbow patch/pads are also such a great addition and just add to the overall detail of the item.
Navy and white graduating stripe Patrolman's sweater. Collar, cuffs and hem are a ribbed knit, placket fastens with three mother of pearl buttons.
This seems quite apt with Nautical all the rage at the moment (and it never really goes away year to year). This item is the epitome of the Nautical trend with the stripes and navy/white combination. Once you put this item on you would already have the trend cracked so would just need to layer it up with some classic jeans and jacket combination. The key to trends is to nod to them not over do it. The item is of course high quality and the fit is perfect. The extended cuffs are different to most items out there and really sets it apart. Pearl buttons and the plastics fastens just show how much detail goes into every item.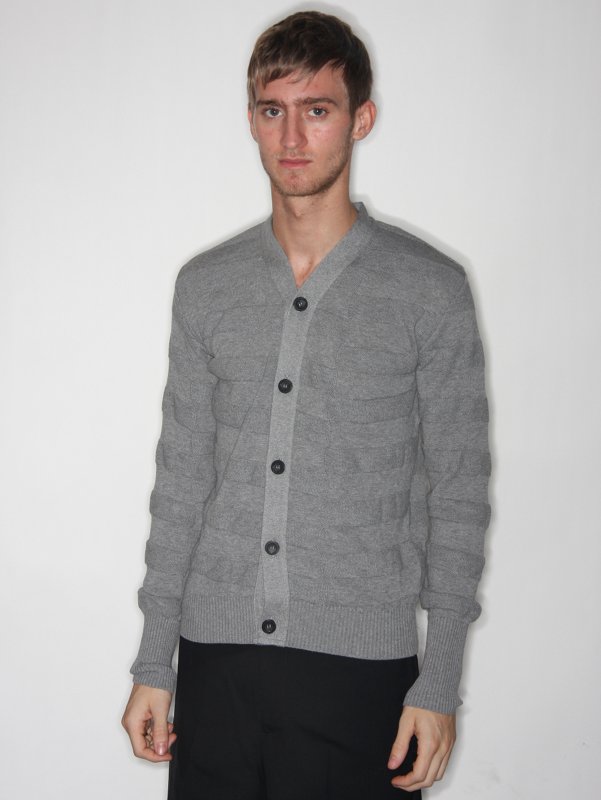 Cosy yet smart knit from Nom. This mid-thickness cardigan buttons from a low v-neck and the grey on grey textured stripe is a really unusual but striking and warm texture. I love this cardigan because again it is so classic but with a slight twist which will set you apart. The grey on grey combination of colours works amazingly well and is in line with all items above. You could layer this over a shirt or tee to be ready for any formal or casual occasion. The fabric is of the highest quality cotton and mid-weight, which means it is perfect for winter or spring.