Summer Grooming
There have been a lot of articles gracing the pages of FashionBeans recently focusing on the key summer trends – notably pastels, deck shoes, chino's and the nautical look. While the fashion forward among us relish the change from the layers of winter to the style freedom of summer, life goes on as normal in the grooming world – or so you thought.
While the grooming industry itself doesn't change dramatically from season to season, and a good product is a good product whatever time of year, there are a handful of things we can do to give our grooming routine a spring clean in time for the warmer weather. As the fashion trends re-invent and refresh themselves, it's up to us to make the necessary changes to take our grooming from winter obscurity into summer in sensational style.
As it's only a matter of time before it's torso baring weather, I've put together a Summer Body Bootcamp to get us all looking good (semi) naked. Gok Wan isn't the only one who has a few tricks up his sleeve you know! The days of covering up our grooming laziness with a woolly jumper are over, it's time to get groomed and make the most of summer.

Step 1: Body Beautiful
Now I know what you're thinking, it's already May so what on earth could I have up my sleeve to turn that beer belly into a washboard stomach in time for you to hit the beach? Well give the Slendertone System Abs 4 weeks to work its magic and you'll be left with firmer abs and will have shaved inches from your waistline.
I tried a Slendertone belt about this time last year and I was amazed at the results, and how quickly I achieved them. At the time I was fairly fit, playing football or hitting the gym at least 3 times a week, but I couldn't get the definition I wanted – a situation I'm sure some of you find yourselves in. I used a Slendertone Flex (which incidentally is the cheapest in the range) and within 6 weeks had noticeably harder abs and my cosy 34 waist jeans were falling off me.
It's not a magic machine so you will have to be getting regular exercise and eating sensibly, but I'm confident, like me, you'd see noticeable results. If you need further convincing, Slendertone have a great section of user reviews and videos on their website.
Step 2: Hairy Situations
Some guys are hairier than others – chest, back, arm or leg hair – it's just a fact of life. When it comes to body hair there isn't really an ideal or a norm, it's down to your (and probably your partners) personal preference. But if you have a little more in common with a gorilla than you'd like, now is a great time to do something about it before it's time to bear all in the heat.
When it comes to dealing with body hair, there are two options – tame, or get rid.
If you choose to try and tame your body hair, then there are lots of trimming gizmo's like this Philips Bodygroom on the market to aid you in your shearing. Once word of advice though, take it easy and trim gradually because once it's gone you can't rectify your mistake.
If however you decide complete hair removal is the option for you, then either visit a salon to get a professionals help, or do it yourself at home with the help of a product like the Veet For Men Hair Removal Gel-Cream.
Step 3: Tan-tastic
Over the last few weeks there's been a lot of grooming focus on both self tanning, and sun care so you should all be well versed by now. Creating the illusion of a slimmer frame and giving your muscles more definition, a tan is obviously desirable as the temperature rises and the clothes become less. However, there are two key things to remember throughout the summer; if you're out in the sun choose the right protection, and if you choose to fake it please take the time and effort to get it right
Step 4: No Sweat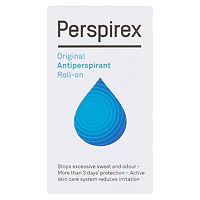 Muggy evenings, over-heated bars and inferno temperatures on public transport are the few unfortunate down sides to the long hot days of summer. If you've got any hope of staying dry and odour free in these situations then you may need something a little stronger than your standard deodorant spray.
PerspireX may sound like a super hero, and I suppose in some ways it is, but rather than save you from dark lords it literally puts wetness and odour at bay for three days straight without re-application. Almost sounds too good to be true doesn't it? Well it's got to be tried to be believed!
Step 5: The Scent Of Summer
Fragrance is one of the few areas where the grooming industry actually responds to the seasons. In the summer, the extra heat intensifies your fragrance, making woody winter scents far too overpowering and in your face.
There are some great summer scents on the market at the moment, with one of my favourites being Paul Smith Sunshine For Men. But whatever you choose as your summertime EDT make sure it's light, citrusy and crisp to embrace the summer months rather than swamp them with woody tones.
Step 6: All In The Details
Last but by no means least, the final details of personal grooming raise their (often ugly) head. Hidden away in winter boots your feet are thrust into the limelight as the flip flops come out in force, and if due care and attention isn't taken you may have to sweat it out in the shoes all summer long.
This Tweezerman Essential Grooming Kit gives you all the tools your need to tidy your hooves, plus a whole host of other personal care tools to tame your fingernails, eye brows and face or body hair. So what are you waiting for, get grooming!