My fellow FashionBeans writer Yvadney recently noted that one of the big up coming trends for spring is taking your look back to simple, no nonsense masculine style. So when penning my grooming article for this week, I thought what better way to compliment this trend than with the most masculine of accessories, the beard.
I know, I know, it was only last week that I was championing the advantages of a great shave. But don't worry, I'm not abandoning my grooming credentials and auditioning for part in Castaway II, growing and maintaining a beard takes just as much knowledge and attention as the perfect shave. But before we delve into the grooming theory, you need to acquaint yourself with some shining examples of what a good beard looks like, and some horror show examples of what to avoid.
The Good…
These gents, most of them style icons in their own right, are perfect examples of how to do facial hair properly. There are some very different beards styles here, but there is one constant throughout – they are all well cared for and very well groomed. Kanye shows us how to detail impeccably, Russell demonstrates that even with a bad hair cut, you and your beard can look great, while Prince William proves that if the future King of England can pull off a beard, then anyone can.

The Bad…
What do Jim Carey (or is that Ricky Tomlinson?), Michael Douglas, Brad Pitt and the funny guy with the beard from 'The Hangover' have in common? They all prove that Hollywood success definitely doesn't guarantee good facial hair:
And The Ugly…
Some beards, like the ones we've just seen, are bad. But there are some beards so bad, they deserve their own alternative name so as not to bring shame to the bearded community. Gentlemen, bow your bearded heads in shame:
You've seen some good, some bad, and some frankly frightening examples of beard growing, so now its time to make sure that your beard growing attempt is more George Clooney than Joaquin Phoenix with my top tips for beard growing perfection.
1. Keep It Groomed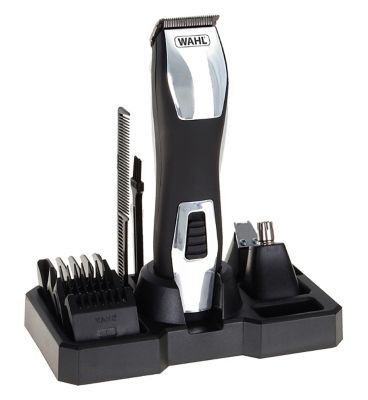 The golden rule for beard growing success, as with any kind of facial hair, is keeping it groomed because contrary to popular opinion, growing a beard isn't the 'lazy man's' way out. Yeah you might not have to shave every morning, but tending to your facial fuzz requires just as much attention. To keep your beard in order, I'd recommend you invest in three key grooming tools.
Firstly and most obviously, you'll need a good quality beard trimmer. Widely available on the high street and the internet there are plenty of choices to suit every budget and beard style. The Wahl Duo Beard and Detail Trimmer is a great all-rounder if you don't already have a fuzz-shearing favourite.
Secondly, make sure you don't throw away those razors once you decide to start your beard growing journey, you'll need one to tidy the edges of a full beard, or detail facial hair. To accompany your razor, a shave gel should be your product preference as the translucency of a gel allows you to see where your shaving and avoid an uneven finish.
Finally, you'll also need to invest in a pair of small scissors (a pair of standard nail scissors will do) to trim any stray hairs and flyways that your clipper missed.
2. Regularly Exfoliate
One of the biggest advantages of regular shaving is the hidden exfoliation that takes place every time you pick up your razor. When growing a beard you miss out on this hidden skin refreshing action, so you need to replace that process with a well chosen face scrub.
The Kyoku For Men Exfoliating Face Scrub is far and away the best scrub I've tried in a very long time, and although it's reasonably pricey, you definitely notice the superior quality with this product.
3. Don't Forget To Moisturise
I mentioned this in my Shaving Tips article, and I'm sure you'll hear me say it plenty more times over the coming months, but the biggest grooming crime out there is avoiding moisturiser. Just because your face is covered by a beard, it doesn't make this process any less important. The key here is to use your fingertips and make sure you reach the skin under your beard to avoid any unsightly dry or flaky patches.
4. Use Conditioner
Washing your hair without using conditioner will inevitably result in hair that's dry, brittle and difficult to control. But it's not just your hair that needs this kind of attention, (I can't believe I'm quoting this) your beard is 'worth it' too. Using your normal conditioner, massage a small amount of product into your beard during your shower routine and you'll notice a huge difference in its condition.
5. Choose Your style carefully
Facial hair is a great way of making a style statement, but as with fashion, making one wrong decision can ruin an entire look. Make sure you're beard choice fits with your chosen style, your face shape and your career. A lawyer walking into his office with a wizard-like tribute to ZZ Top clearly doesn't work.
Conclusion
Correctly taken care of, your beard can be your prized masculine asset and compliment a variety of looks this spring. But one style that never changes is the way you look after your beard, and the skin underneath it, so ensure that your grooming routine is as impeccable as your new look.